Jadeworld II: Chan's Ambition
An Adventure Construction Set Production
by John Baber
Chan's Ambition (includes ACS files and CCS64 shareware)
https://www.mediafire.com/file/979cp61y ... d.rar/file
Jadeworld ACS November 2018 (my complete collection of ACS games and all extras)
https://www.mediafire.com/file/3r9p4zus ... d.rar/file
Making this final game is a love note to the Jademan Comics of my 1990s college years, and to Stuart Smith's Electronic Arts eighties game Adventure Construction Set. Although various newer versions of ACS were made for the Commodore Amiga and IBM PC, the game system itself was unchanged and never updated from the original Commodore 64 version (I can't recall if the Apple II version came first, although the sound obviously was inferior to the 64's beautiful SID-chip synthesizer).
A few notes on the implementation of this 15-region stand-alone ACS adventure:
* The initial region was conceived of as an everlasting training area for new characters. After defeating initial enemy characters, there is a 5-10% chance of similar thugs regenerating when you revisit the rooms. (This "random enemy" chance was not activated for the later mass-melee regions, for the obvious reason that you're trying to watch a story unfold without the interference of new additions.)
When creating a new character in ACS, you want to randomly roll up stats that have an above-average (indicated by an 'up' graphic character) speed, dexterity, and life. If you manage to create a character that takes half-damage or only damage from magic attacks, save them and add another.
This game is ideally played with a new character and an existing "expert" character created and retired from a previous ACS game module from the others I created over the years. That way the novice can gain the various upgrades and power boosts that Chan's Ambition allows, while being guided by the superior skill of the existing expert.
You could also roll up four brand-new characters, have them tough out the training region, and then try your luck at the advanced levels. (This is an option I have not tried out yet.)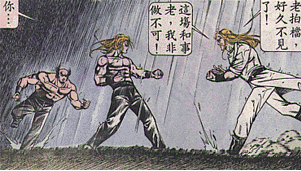 * Once you leave the starter region, look out! The encounters in mass melee battles become very deadly, very quick. In the first encounters, such as battles with the Clan of Assassins or Poison Dame's zombies, you can simply RUN THROUGH THE BATTLE and avoid it entirely. In playtesting, I was killed many times over when I chose to stay and fight. It took a lot of planning (with 2 characters) to finally kill everyone in Poison Foxy and Poison Dame's ambush of the heroes (the third region).
In later regions, completion of the region is only possible with the death of a high-level enemy. There will be a visible gate that needs the treasure token to obtain passage. In some cases, the ally of the player (such as Skeleton Secretary or The Supreme) will simply give you the token to pass the barrier. But your friends won't do this until every threat in the room is dead.
* While I endeavored to accurately simulate the kung fu styles using the ACS game mechanics, there are obvious limitations. Every kung fu master in the game can be overwhelmed with a chi (magical attack) assault. This is good because the player can never equal the fighting power of the top masters, who are essentially gods in play terms. As Incredible Chap observed in the comic at the death of Jupiter, "he was a master, but there's always someone better".
* This game pushes the limits of the ACS game engine. I mean that literally. There is a little bonus in the game where you can obtain a summons token. Using this magic item summons "The Supreme" the leader of Global Cult and Chan's friend. The ACS game system was pretty good for 1985, but summoning any character not in the region's starting lineup corrupts the game and the names of other characters. It can also crash the game! Use this summons sparingly, only as a last resort.
There are places in the game where having the Supreme aid you certainly helps. But you can finish the game without him, also. Try the game first using the various times you can summon his aid, and then try it on your own. (Replay value)
* This game was conceived of because of an interesting bug (or feature) I discovered from programming "Oriental Heroes: Global Heroes" (HEROES3.D64) back in the 1990s. In the Global Cult vault, I stacked a shocking electrified gate (new gate) with a summon creature tombstone on top of it. Assuming there are sufficient slots open on the level (some characters had to die before you try to summon new ones), you can tap the tombstone to summon a new character the next round.
But this triggered something very odd with the existing enemy characters. They knew a summoned enemy was arriving, and try to walk over that space where they are due to arrive. But there's an electric gate space there. They then tried to walk over the electric gate, shocking themselves! ACS is very specific that non-player characters cannot interact with special spaces like that, these are reserved exclusively for the human players to step on. Yet somehow, the game engine accurately renders the effects. If the computer character has a low enough life level, they die when stepping onto these spaces. A new feature!
Given the very limited random AI of ACS, this was a delight to discover a new feature in game design. So as an homage to that 1994 happy programming discovery, I reuse such stacked spaces in two regions of Chan's Ambition in 2018. (The proper activation of these spaces is explained to the player as a sort of cheat. Basically, you need to wait until one or two characters die in that region before tapping the summoning tombstone.)
* Sometimes game design is just working in a mistake. When testing Poison Dame's zombie region, I accidentally set "friendly" Guy as an enemy. Rather than fix him, I just added a message space where Poison Dame had hypnotized Guy into serving her, something that happened regularly in the actual comic, by the way. The first time I play-tested the battle though, I couldn't understand why Guy kept throwing molotov cocktails at my characters. (Guy has really bad aim for some reason, I thought.)
* The Gang of Four heroes are very annoying in game terms in that they're always throwing seemingly worthless missile attacks (slingshot, molotov, mini-bombs) at invulnerable kung fu masters. But sometimes, there is a small chance that they shatter that person's armor! And of course, missile attacks leave them open to a sneak melee attack. This is the first Oriental Heroes game where the player is actively encouraged to send the Gang of Four to oblivion...
At the close of the 55 issues of the English version of the comic book, we are told Chan Ou-Wan is simply handed his retirement pay and returns to Japan. But reading the Chinese Hong Kong version of the series a decade later, I learned this is not what happened! Incredible Chap learned that Chan's various maneuvers in Global Cult had led to the death of his friends. So he set up a little ambush to deal with Chan. This was a plot point I was happy to add into the game module, to give Chan some form of moral punishment for his various selfish misdeeds in the game (and the comic). Enjoy!
NOTE: CCS64 is a shareware Commodore 64 emulator for MS-DOS/Windows computers. I include the download version as a convenience ONLY. I was pleased and surprised that I could get it to also work on Windows 10 without any special "compatibility mode" bootup, either. Please support the author of CCS64 and if you like their software buy it!
Shade and Sweet Water,
-John Baber
November 1st 2018
What an Oriental Heroes comic looks like on yt:
https://www.youtube.com/watch?v=bUDJKK1JhOc