Adventure Construction Set
Jadeworld
based on Jademan Comics (Hong Kong)
April 2020 'Social Distancing' Indoors Edition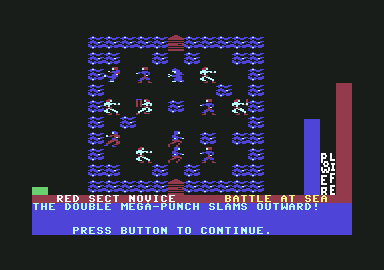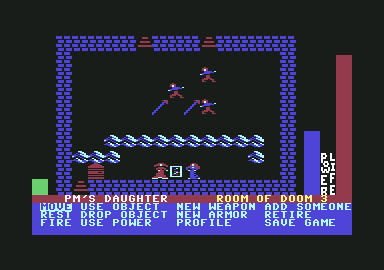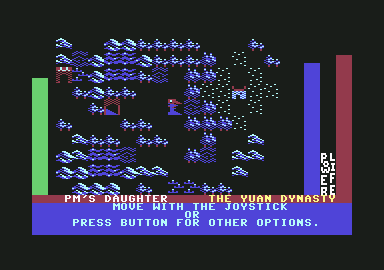 Code: Select all
https://www.mediafire.com/file/2nvghc8xler0hy2/ACS_Jadeworld_April_2020.rar/file
Just some bug fixes and adjustments while most of us are indoors. For those wondering what the gameplay is like it is identical to the combat system depicted in a 2019 Chinese television show called Heavenly Sword and Dragon Slaying Sabre:
[video]
[/video]
1993-2020 game summary
My 27 year Odyssey with Adventure Construction Set
When Jademan America comics ceased publication in 1993, I saw it as an opportunity to resurrect a slow and rather unplayable 'dungeons and dragons' style adventure game editor. I had first played ACS when it came out in 1985, and was blown away at the time. But I saw no use for making my own games with it until very different circumstances.
In 1993, I realized that the 'Power' and 'Life' energy bars in ACS could accurately simulate the magical kung fu powers of the Jademan comic book characters. Casting the most powerful spells (magic attacks) cost the most power, and had a chance of failure. Players (and computer characters) could heal and restore their powers and life force. And they could heal each other or take someone else's power.
I put a lot of thought into the magic use system, to balance the power levels, and how to get the computer characters to use their magic attacks in sequence of increasing deadliness. I did so because in the early 1990s I believed I was on a firm path to becoming a Computer Programmer. I didn't know that ACS play disks would be the start and end of my computer gaming career. But that is my story, let's look at the play disks that I created over... ahem... 27 years.
Jademan Comics adventures (collectively called 'Jadeworld' by me) as simulated on Stuart Smith's Adventure Construction Set:
JADEWORLD1A.D64
- I summarize the kung fu and characters of several unrelated Jademan comic books. This game utilizes the gimmick of magical barriers with specific keys, something I narrowed down for later games. I learned a lot about what worked and what didn't with this game. It holds up today as a complete adventure, for beginner characters to progress to reasonable competency.
JADEWORLD1B.D64
- Back in 2018, I realized that I could adapt a six-region test game based around Infinite Hedron kung fu into a full simulation of two comic books: The Blood Sword and its sequel Blood Sword Dynasty. This game was entirely created on the CCS64 emulator.
MUSHITSU1.D64
- I wrote this as a break between other Jadeworld modules. I had completely forgotten about it until reading some of my notes from another game. This would have been a fuller simulation of the world of Kozure/Koike if I had read "Path of the Assassin" and "Samurai Executioner" in the mid-nineties. But there's a ton of swords, throwing stars, and missile weapons galore! Ninjas and Samurai have their own progression trees.
HEROES1.D64
- Based on the Oriental Heroes comic book, which is set in Thailand. But this game is entirely in Japan, as your new characters train their way up to becoming Oriental Heroes. I had the idea of working in an army of undead as extra villains, and reworked them into the story. I realized this diluted the purity of the game in later play disks, and thus you'll see various undead enemies renamed into more familiar characters.
HEROES2.D64
- Empires of Thailand. The players find their way to the mainland, where they battle Red Sect, Global Cult, and White Sect. It is in the final battle in the Global Vault that I introduce the amazing game AI programming feature of tricking enemies into stepping onto life-sapping squares. A new feature!
HEROES3.D64
- Global Heroes. The previous two games, after a lot of bug-swatting, merged into one in a fresh adventure that I hoped would be truer to the comic. Always an elusive goal... A love letter to the comic book and the ACS game system, this might have been the end of my adventure-making.
HEROES4.D64
- Dream Matches. ACS had a feature to "complete an adventure", but I never could get this to work in any sensible manner. So this play disk was devised around matches I would choose. Not a proper game, per se, but a spectacle where you duck out of the room and watch the computer characters battle it out. Most of the battles were of good verses evil, but some put everyone neutral in terms of battling to the death, friend or foe. (At one point, the computer characters notice you are just watching them fight, and set up a surprise ambush for your player(s) midway through. This can be a real challenge!)
HEROES5.D64
- Cinematic Heroes. I considered the matches I set up in the previous game to be somewhat lacking. This was my first attempt to create a complete Play Disk using the CCS64 emulator. Again, just a series of Dream Matches, hopefully presented better 20 years after the prior effort. All my "new games" simply accept the existing game mechanics, although I revised them heavily for Jadeworld 1b.
HEROES0.D64
- The Saga of Chan-Ou Wan. Chan is the villain of the comic book. Following in concept to BUDDHA4, the player develops alliances and enemies as you follow his path as depicted in the 55 issues of the comic book.(Recently updated in 2019 for 2020 release.)
This module also utilizes the 'deadly shocking gate' space in two regions as a tribute to the happy accidental AI discovery I made in HEROES2.
BUDDHA1.D64
- The Force of Buddha's Palm comic book was the funniest of the Jademan titles. Set in Ancient China, the power levels were off the scope compared to Oriental Heroes, so I tried to match that for the game setting. A near-total redesign of the game system, focusing more on long-lasting missile attacks, and a new poison system that is totally unbalanced and something you have to protect yourself against. Just like in the comic book. (And I try to convey some of the comic's humor in these games as well.)
Unlike the Oriental Heroes modules, I conceived of the Buddha's Palm games as a complete story from Buddha1 to Buddha3. You would fight flunkies in this game, then advance in power to fight more powerful crime groups in the second. The third would be the greatest challenge. Poison traps and crafty foes made these games the ultimate in challenging game design that I could personally devise using ACS. It represented years of research in my spare time in the 1990s.
This game also presents a mega arena battle between a bunch of low-level thugs fighting over the "treasure" of Nine Continents, who is the star of the comic and not even in this game module. This is still my favorite mass battle of ACS, it's fun to see who will come out on top.
BUDDHA2.D64
- The story of Nine Continents and the Twins (Devilito and Samsun) is replicated from the comic. Players who did not develop their missile skills in the Oriental Heroes games (it's not emphasized there) will find themselves at a disadvantage.
This game features a unique moment where the player must dismiss extra characters from your party into order to battle alone. Should you survive, they rejoin you from the world map. (Otherwise, I learned to leave the world map alone as much as possible because it's so slow.)
BUDDHA3.D64
- The completion of the Buddha's Palm trilogy, basically a retelling of the previous module with the enhancements I wanted plus new settings and setups for battles. I made a real effort to utilize the world map for showing the player's travel from China through the Gobi Desert to Persia, albeit briefly.
BUDDHA4.D64
- The Saga of White Crane. Pakkam was servant to Nine Continents and his brother White Jade. He developed his Arctic Fire kung fu only to have Nine Continents awake from a coma and challenge him to the death. At least in the comic book. Here you take control of White Crane's destiny, and whether you succeed or not is up to your knowledge of chi (magical power). A fitting finish for this game engine and my efforts to implement Jademan-style combat in a 1985 gaming system.
BUDDHA5.D64
- Tony Wong said that he envisioned Buddha's Palm as a cinematic comic book, so I tried to bring that to life with this more-accurate summation of the 55 American comic books. I think this comes across better than the identical concept in HEROES5. I updated this one in April 2020, a good excuse to update a few game modules (Heroes 3-5 and Buddha 1-3 as well) while the world is stuck indoors surviving the latest plague.
If you have made it through all of these games, I salute you! Here's to someone making a future game engine that simulates Jademan comics in a better manner. I think mine's pretty good, all things considered as I anticipated most game-stopping bugs and succeeded in spite of them.
Thanks to Stuart Smith and Electronic Arts for Adventure Construction Set.
-John Baber
April 2020