Jadeworld - Adventure Construction Set
May 2018 updated edition (New game: "The Blood Sword")
by John Baber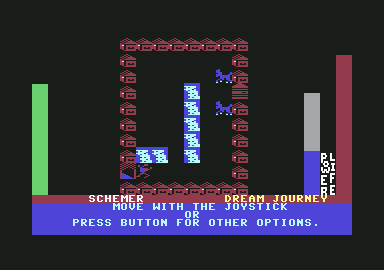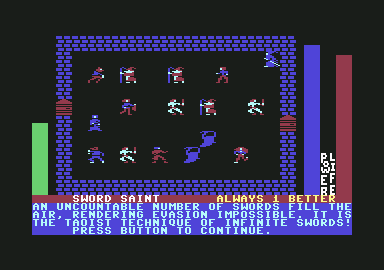 Twenty years ago, I purchased a 1541 to PC cable, and transferred my entire Commodore 64 disc library to PC. Part of this was a series of game modules I created using Stuart Smith's Adventure Construction Set (1984).
I found that the basic D&D game system of ACS allowed me to simulate the adventures of Jademan Comics. This is a line of Manhua (Hong Kong) manga comics. Instead of mutants, like Marvel Comics, there are various kung fu schools with dizzying powers and healing abilities. If you think of Street Fighter II, that game was based off of this common Chinese culture.
From 1989-1993, Jademan Comics translated a number of their comic titles into English. Back in the early nineties, I created 15-region game modules using Adventure Construction Set based on the comics "Oriental Heroes" and "The Force of Buddha's Palm". In 2018, I complete a game module based on "The Blood Sword" comic book. This was done entirely on my CCS64 emulator, on a Windows 7 modern laptop. So I've come full circle.
I have included the demo version of CCS64 (the full version is shareware), the ACS game discs, and my 13 adventures. Why 13 adventures for a game system no one has ever used? For my amusement only. I hope those who overlooked the pleasures of Adventure Construction Set find these games worth exploring. Instructions included!
Enjoy!
Code: Select all
http://www.mediafire.com/file/45oj6u56mkzbfi0/Jadeworld_ACS_May_2018_upload.rar